Progress Update 2021-2022
During the academic year of 2021-2022, UVA staff, students and faculty helped the University make significant progress toward meeting UVA's goal to be carbon neutral by 2030 and fossil fuel free by 2050. Read our latest Annual Report.
UVA's Committee on Sustainability supports a strategic, pan-University approach to achieving sustainability at UVA, which takes many forms – from increasing composting bins around Grounds to making innovative upgrades to the University's heating and cooling system to advancing equitable solutions to climate change.
This kind of work involves countless people in Facilities Management and Parking & Transportation departments and other staff, as well as students and faculty. The team at the Office for Sustainability is honored and grateful to work with all our partners to help ensure UVA meets its goal to be carbon neutral by 2030 and fossil fuel free by 2050.
Some of UVA's achievements as of the 2021-2022 academic year include:
43% reduction in greenhouse gases (baseline 2010) – well on our way to being carbon-neutral by 2030
78 LEED-certified buildings (covering 4.5 million square feet) and counting
$21.6 million saved in the past three years through energy efficiency upgrades in existing buildings
33% of UVA Dine's food and beverage budget spent on sustainable products
200 sustainability events and 256 volunteers last academic year
55 graduates in 2022 with sustainability-related majors
370 sustainability-related courses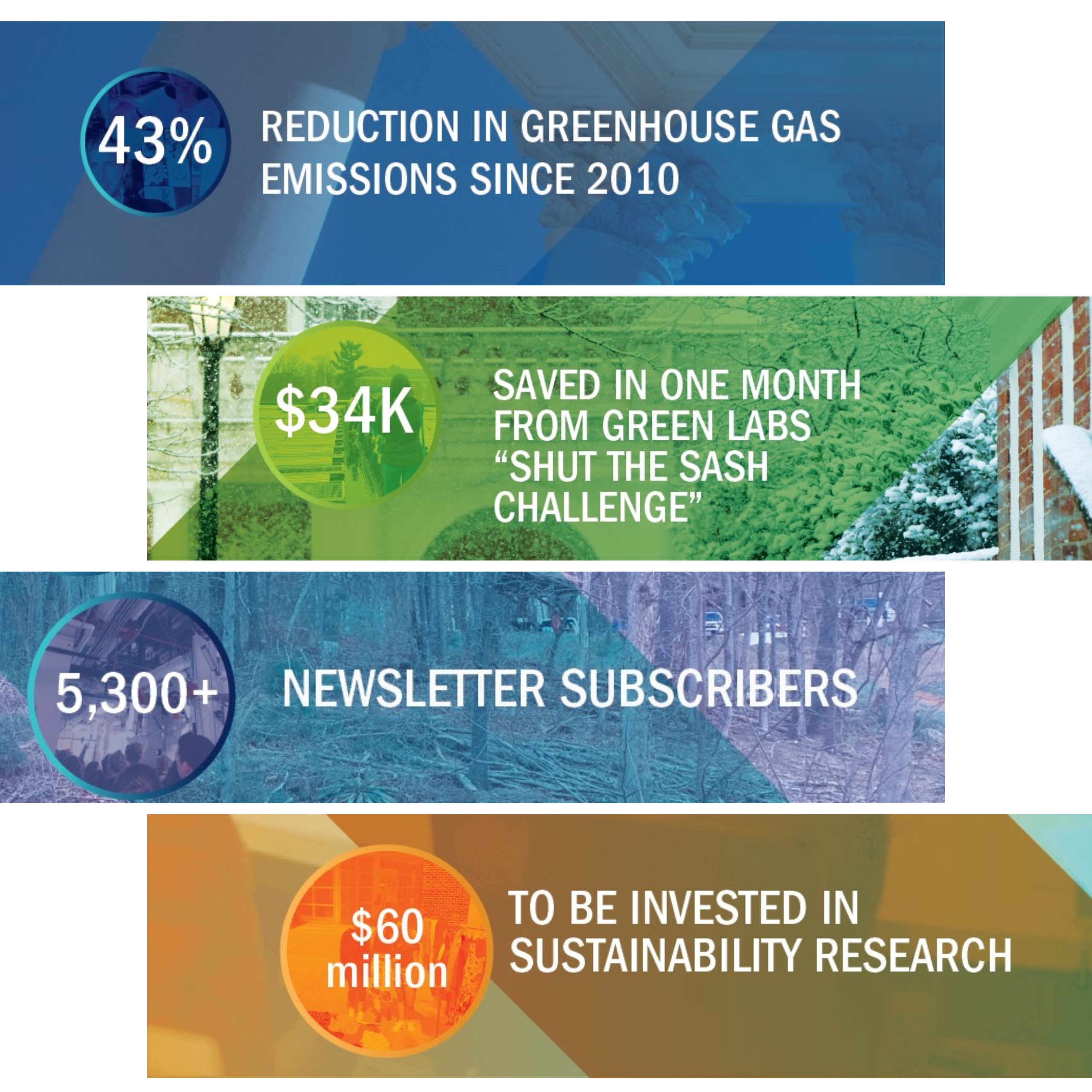 In addition, UVA holds STARS Gold certification from the Association for the Advancement of Sustainability in Higher Education, one of approximately only70 institutions worldwide with Gold certification under AASHE's current version of the rating system. And the Princeton Review recognized UVA as one of the nation's most environmentally responsible colleges, ranking us 93 on a scale of 60 to 99.
The Office for Sustainability has also published UVA's 2021 Greenhouse Gas Inventory, which provides a deeper dive into the overall 43% reduction metric. For example, GHG emissions have been cut about 50% from electricity sources, 32% from fuel and 33% from transportation (2010 baseline). In those 11 years, UVA's population has grown by 6,218 faculty, staff and students (18.4%) and added 3.2 million square feet of building space (20.9%). Despite the growth, UVA has reduced emissions per person and per square foot.